Testimony
I signed up for the 365 Ellel course about two years ago and I am still not finished on the course, however, about a year ago I was set free from a spirit of insecurity through personal ministry at a church one evening. ....
Read More...
CA$11.00 (CAD)
View on store
Please note...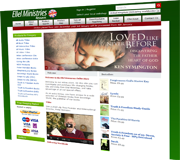 Products are sold through our dedicated shop website which will open in a new window when you add this product to your basket.
The Facts on Roman Catholicism
Presented in a convenient question-and-answer format, readers are given a general overview and detailed information based on a biblical evaluation of the Roman Catholic Church. They discover similarities and differences between the basic theologies of Catholicism and Protestantism. Topics include: Have the basic doctrines of the Roman Catholic Church changed? What are the sacraments, and how do they function in the life of a Catholic believer? What does the Catholic Church teach concerning salvation? What unique role does Mary have in Roman Catholicism, and is it biblical? Can the differences between Catholics and Evangelicals be set aside?