Testimony
I signed up for the 365 Ellel course about two years ago and I am still not finished on the course, however, about a year ago I was set free from a spirit of insecurity through personal ministry at a church one evening. ....
Read More...
CA$13.00 (CAD)
View on store
Please note...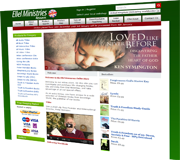 Products are sold through our dedicated shop website which will open in a new window when you add this product to your basket.
Explaining the Holy Spirit
Each book in the Explaining Series examines an important aspect of the Christian faith and is written in a way that presents the message of the Bible clearly and simply. In this book Bob Gordon teaches what the Bible says about The Holy Spirit.