CA$11.00 (CAD)
View on store
Please note...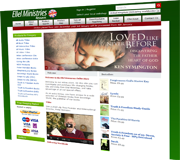 Products are sold through our dedicated shop website which will open in a new window when you add this product to your basket.
Explaining the Cross
In this book, Bob Gordon teaches what the Bible says about the cross. He explains what happened to Jesus on the cross and what it signified. Instances in the Old Testament that predict and foreshadow Jesus' death on the cross are laid out in this book. Calvary was not a defeat, but a triumphant victory. Gordon explains Christ's resurrection after his sacrifice two-thousand years ago and its relevance for you today. Jesus' sacrifice for you means that you can have a new life too, and Gordon teaches how to apply this into your life.
---
or buy the physical book below