Testimony
I signed up for the 365 Ellel course about two years ago and I am still not finished on the course, however, about a year ago I was set free from a spirit of insecurity through personal ministry at a church one evening. ....
Read More...
CA$9.00 (CAD)
View on store
Please note...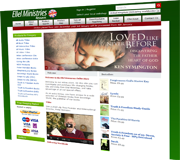 Products are sold through our dedicated shop website which will open in a new window when you add this product to your basket.
Dynamic Prayer - Communicating with God
A time comes in every believer's life when the journey to spiritual maturity must take place. At the centre of this process is the ongoing act of not just prayer in our daily lives, but intercessory prayer. The world is sick, both spiritually and morally; false idols abound. There is a desperate need for Christians to learn, through holiness and repentance, how to align their prayers with the will of God to bring spiritual wholeness into our broken communities and nations. There is no short cut. David Noakes provides a depth of understanding on the differences between prayer and intercession that has given him a strong reputation as a teacher on the subject. He explains the spiritual tools we have access to in our prayer life and how to use them. Written with conciseness and brilliant illumination of Scripture, this book will become a precious reference as our lives are impacted with a fresh vision of what it means to truly walk in the Spirit of God. Part of the NEW ""Issachar Series"", Issachar Ministries is named after the tribe of Issachar who in the time of King David was renowned for having men of prayer who "understood the times and knew what Israel should do" (1 Chronicles 12.32). The objective of the Ministry is to seek understanding, from a Biblical perspective, of current events both in Britain and on the international scene and equip believers to meet the challenges.