Testimony
I felt such peace overcome me as I let go of my pent up frustrations and guilt...I truly do not know where I'd be today if it wasn't for my Daddy God lifting me out of the darkness and into His loving arms! ....
Read More...
CA$15.25 (CAD)
View on store
Please note...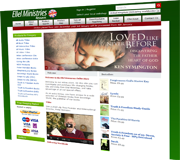 Products are sold through our dedicated shop website which will open in a new window when you add this product to your basket.
Anger: How Do You Handle It?
Anger is the most powerful of emotions. It can be the driving force that enables us to achieve the seemingly impossible or the stumbling block that traps us into a life style characterized by unforgiveness, bitterness, broken relationships and violence. Keys presented in this book will explain how you can deal with the accumulation of anger from past events and how you can in future deal with the situations that cause you to feel angry. The book also provides much needed understanding for those in the caring ministries who are seeking to help those with 'an anger problem'. This book is part of Sovereign World's 'Truth & Freedom' series based on the renowned teaching program from Ellel Ministries International.