CA$12.00 (CAD)
View on store
Please note...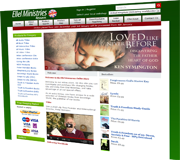 Products are sold through our dedicated shop website which will open in a new window when you add this product to your basket.
The Power of a new identity
If you struggle with issues from rejection, fear, guilt or shame, it is possible that the picture you currently have of yourself is not built on truth. You hear about being a new creature in Christ, but like most Christians you still operate in terms of your "old" self. As a result, your past suffering and failure actually dictate who you are and how you act. According to Dan Sneed, this is spiritual oppression and it can be broken. With fresh insight and powerful teaching, he will guide you into biblical truth about God's picture of you! Don't let a false self-image continue to defeat you. Learn which lies you have believed and follow these life-giving steps to freedom.
---
or buy the physical book below