CA$15.00 (CAD)
View on store
Please note...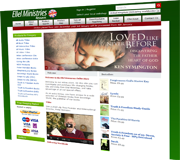 Products are sold through our dedicated shop website which will open in a new window when you add this product to your basket.
From Bondage to Blessing
What does the Bible really say about women and God's eternal purposes for them? What is God's heart and mind regarding women in leadership? The gender issue, or "the woman question" as it has often been called, has become ever more prominent in the Church in recent years. A dramatic increase in the numbers of women seeking involvement in ministry has been a catalyst which has initiated a new uncertainty in theological circles. As a result, church leaders and saints in the Body of Christ have been prompted to ask the question again, and are looking for clear guidance on the theology of gender roles. Dee Alei insists that it is time for God's women to come under His covering, under the shadow of His wings, to find healing from their hurts. It is time for God's women to release any anger or bitterness from the misunderstandings, accusation, isolation, rejection, alienation and ungodly control that they may have experienced in the past. It is a new day!