CA$13.00 (CAD)
View on store
Please note...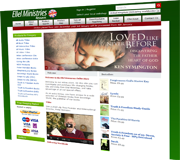 Products are sold through our dedicated shop website which will open in a new window when you add this product to your basket.
The God Life
This powerfully inspired version of most of Paul's letters, reveals the heart of God for His people in the most extraordinary of ways. Jim Graham gets right to the core of the Apostle Paul's writings, opens our eyes to see afresh God's intentions for Christian living and challenges us to live our lives accordingly. Variously described by pre-publication reviewers as a "superb interpretation", a "brilliant paraphrase", a "spiritual treasure" and a "remarkable book by an extraordinary man of God", this could be the most important book Sovereign World has ever published. Destined to be an essential classic.

Click the icon to preview this book.