CA$10.50 (CAD)
View on store
Please note...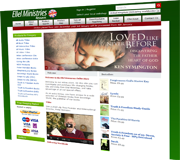 Products are sold through our dedicated shop website which will open in a new window when you add this product to your basket.
Listening with Understanding
Listening is one of the most important parts of our relationship with God. Our ability to listen and receive instruction is what defines our lives as Christians. The Bible is alive with the voice of God and much emphasis is on the outworked consequence as to whether that voice is heard, heeded and acted upon. Recognising the voice of God is only the first step towards the act of 'listening'. Without confidently knowing the mind of Christ and interpreting correctly his voice, we cannot apply what we receive into decisive actions of faith.