CA$17.14 (CAD)
View on store
Please note...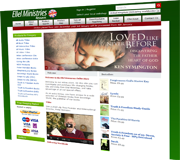 Products are sold through our dedicated shop website which will open in a new window when you add this product to your basket.
Homecoming: Our Return to Biblical Roots
Every major teaching of the New Testament has roots deep in the Old Testament. Many Christians have been taught to interpret the Old Testament through the filter of the New. This book instead encourages us to return to our biblical roots, which means to interpret the New Testament through the filter of the Old just as the early apostles had done.